The Bell Jar Review
The Bell Jar by Sylvia Plath: My Review
Rating: 3/5 stars
I took a deep breath and listened to the old brag of my heart. I am, I am, I am.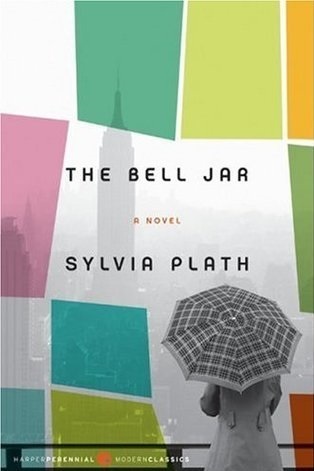 The Bell Jar is a very difficult book for me to review. I unfortunately did not love it in the way I thought I would and that many others do, yet because it is a semi-fictional autobiography it is extremely hard not to equate its value with the tragic death of its author just weeks after its publication, thereby making me feel as though I should have a relatively delicate approach to the way I discuss the problems I had with it. Nevertheless, I'm going to try to separate this piece of literature from the onset of events that followed it so this can be a completely honest review.
We follow the protagonist of Esther Greenwood, a 19-year-old woman of the 1950s who begins in the dark heart of New York for a glamorous job at a magazine, yet in this she finds no excitement whatsoever as she believes that society has placed her under a bell jar where she is stifled and confined. Esther is pretty much Plath's fictional alter-ego, and the bell jar she talks of is a metaphor for the early battles of depression and suicide she suffered in college which kept her isolated and ultimately distorted her view of herself and of the world.
I truly don't think anybody could diminish depression after they've read The Bell Jar. Plath's poignant writing vividly encapsulates the tight downward spiral into insanity and helplessness that accompanies the illness, and the novel also stands as evidence of how far we have come in the last few decades in recognizing mental illness and treating it with much less radical techniques than electric shocks. That being said, however, the real problem I had was how ultimately harrowing the book was to read, and to say this makes me feel like a bad person - because what Esther/Plath experiences is harrowing and extremely real - but it's unfortunately the way I felt. I completely understand that having depression generally means feeling like you are living your life behind a veil, and all you really want to do is isolate yourself from everything and everyone that surrounds you, which is certainly illustrated by Esther's narrative. Emotionless and empty, she truly becomes a shell of a human, contemplating killing herself with an ease that is unnerving. The distance between Esther and the reader is so large that no matter how hard I tried I just could not connect to her; I could never fully comprehend what she was going through because she seems to avoid talking about her feelings, leaving myself feeling pretty numb and - I hate to say this - underwhelmed after each chapter when I really felt I should be feeling something.
The book overall read like a cry for help, akin to an elaborate suicide note, that I think Plath must have been slightly embarrassed by considering she originally published it under a pseudonym. As the protagonist's descent into insanity and confusion increased, the lines become flatter and duller and, depending on how you interpret it, it is strongly possible that the writing reflects Plath's own mental change that was evolving as she wrote the book in 1961. What makes it so upsetting to read is that there is really no comfort to be found anywhere in the story, and the moments when Esther seems freed from the bell jar are only a brutal reminder that the book is part fiction. It made me feel constantly useless seeing a person becoming consumed by fires I could not put out, which did not make for an enjoyable reading experience. Plath's suicide haunts each and every page and, although needs to be acknowledged as the truth, really deprived the book of any hope or assurance.
I must also say that the popularity of The Bell Jar surprises me a little. I feel the resonance of the book is fairly limited by its roots in specific social contexts (like gender roles) and how it is anchored by a state of being that a large part of the population cannot directly relate to, which is something that definitely got in the way of my personal enjoyment of it. I've seen a lot of comparisons between this book and The Catcher in the Rye and I can definitely see the validity of this but for me J.D Salinger's novel was far more pleasurable to read. Even if you hate Holden, it can at least be said that his narrative is rich enough with emotion that you are able to feel strongly about his character, whereas the lack of strong emotions in The Bell Jar made it so difficult to like or dislike Esther, plus there is no definite resolution to her story which, in my opinion, did not allow it to function as a satisfying or impactful read independent from its context.
Overall, I give The Bell Jar 3 out of 5 stars as I do believe it is a courageous venture into the perception of women in western society as well as the taboo of mental health that needed to be discussed when Plath wrote it and still should be recognized and discussed today. Yet while I can see why it is held up on the classics pedestal, the comfortless narrative and disjointed structure meant I unfortunately wasn't as overawed by it as I'd hoped to be.