The Hate U Give Review
The Hate U Give by Angie Thomas: My Review
Rating: 5/5 stars
What's the point of having a voice if you're gonna be silent in those moments you shouldn't be?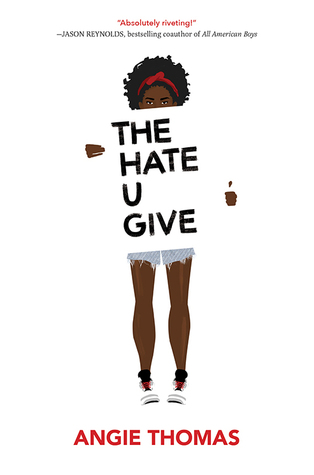 The Hate U Give is one of those books that I don't think many of us realized needed to exist until it did. It is very rare to find a book that is well-written, emotionally-charged and unputdownable yet also sends out a sociopolitical message that will make all readers from all walks of life reevaluate themselves and become truly educated on the society we live in. This is one of those books.
We follow Starr Carter as she deals with the aftermath of witnessing her childhood friend, Khalil, being shot by a cop. He was unarmed and doing nothing wrong.
We see how the media presents young black men as guilty until proven innocent because of the social stigmas surrounded black culture. We see how it is virtually impossible to appear innocent when you are black, poor and from a rough neighborhood, as you face the twisted presumption that you must be a drug dealer and therefore deserved of your fate.
In my life so far, I've had the oppurtunity to experience many different things, but there are some things I'll never experience. One of those, fortunately, is being viewed by the police as a threat as soon as they see me simply because of the colour of my skin. I'll never have to think about the possibility of a routine traffic stop turning into something more dangerous just because a policeman gets nervous. That's something I've taken for granted my whole life, but after reading The Hate U Give I never will again. In all honesty, this book made me realise just how clueless I was to the continuing actuality of day-to-day systematic racism and police brutality in America, a reality in which justice is dead. Inspired by The Black Lives Matter movement, the writing of this book was so incredibly timely, yet does not feel as though it was thrown together in order to fill this gap in the market. It could easily have been a book that felt heavy-handed or preachy in its messaging, yet this was crafted with such emotional depth that I literally felt like I was reading a biography.
But this is more than just a book about racism; it's a book about family, friendship, identity, loyalty and community. It captures the perspective of a scared young girl who is reluctant to speak up because she knows there is never any justice for these heartless killings. In the end, it takes a whole village to come together and save Khalil. Alongside her fight for justice there are complex relationship dynamics and an identity struggle that is equally as compelling. Starr feels as though she leads a double life - the normal black girl who lives in a poor neighbourhood with her black family, and the student at the fancy prep school her parents send her and her brothers to in order to get them out of the ghetto, the girl who cannot speak the way she does at home in fear of how she is perceived by her white classmates. Angie Thomas considers and represents this divide perfectly, creating relationships that are nuanced and characters that are all incredibly lovable and felt so real, especially Starr's family.
Nothing is cliche, nothing is one-dimensional - every single sentence is real and honest and is going to make a lot of people uncomfortable but that's okay because feeling discomfort is necessary for change. And I do believe this book is going to change a lot of people's lives. We need this, America needs this, YA fiction needs this - so many readers can become aware of cultural appropriation and racial bias in the justice system, and eventually more of us will stop ignoring the problems going on in today's world.
I will never be black, and I will also never be American, so of course I could not identify with the core experiences of the characters in this book. But The Hate U Give made such a huge impact on me as it opened my eyes to aspects of white privilege I have shamefully never considered before, and for that reason I truly want everybody to read this book, black or white, young or old, American citizen or not.
Overall, The Hate U Give deserves every single positive review it gets and I cannot emphasize its importance enough. It's a perfect example of how books are possibly the most influential and powerful tool we have and I am sure this will be a book that, in years to come, will be regarded as a literary classic of this generation.