summer 2018 wrap up ☀
As summer is coming to an end (*snivels into a tissue*) and I have a week left until I start college (*grabs twenty more tissues and bawls*), I thought it would be fun to do a kind of summer wrap-up and also mention a few of the books I have on my TBR for September. I had the longest summer of my life this year - two and a half months - and that meant SO MUCH READING TIME which made me a very happy bunny indeed (and also probably the most lazy/unproductive/detached from reality I've ever been but it's totally excusable because who needs to go outside and interact with actual people when you have fictional worlds and coffee to fuel your life).
Rather than talk about all of the 33 books I read in the months of June, July and August, I've decided to just pick out my 7 favourites. I loved so many of the books I read over the summer but these few definitely stood out above the rest and are all now favourites of all-time.
So, in no particular order...
🥀
The Strange and Beautiful Sorrows of Ava Lavender by Leslye Walton
This book really does live up to its title in how inexplicably strange and beautiful it is. Magical realism can be quite a hit-or-miss genre with me but Leslye Walton just got everything right. Reading her prose feels like sipping iced coffee on a snowy day - it gives you goosebumps and makes you shiver but it's still delicious and the whole experience is so bittersweet but so addictive, you just want to consume the entire thing in one huge swallow. The pacing of the story, which is usually where the issue I have with magical realism arises, was done perfectly and I was utterly absorbed by the melancholy, sinister lives of the four Roux women from beginning to end - just writing this makes me want to dive straight back into the book and reunite with them.
🥀
We Are The Ants by Shaun David Hutchinson
This book was the biggest emotional journey and now owns part of my soul (in other words, I am Voldemort and here's one of my Horcruxes. Please don't destroy it). I took it with me to read on my holiday in Portugal and because of this decision ended up barely even acknowledging two of my eight days there as I was so obsessed with this story I felt almost trapped inside its pages (in the best way possible). Which, I must point out, NEVER happens with me and YA contemporaries. If you're looking for a book that blurs the lines between reality and sci-fi (there's aliens), will make you unapologetically sob and reflect on the self-absorbed lives we lead as humans to the point of an existential crisis, then look absolutely no further and read We Are The Ants immediately.
🥀
Rebecca by Daphne du Maurier
I read a few classics this summer which I enjoyed, but Rebecca was different. I was enthralled. I don't know how I hadn't read anything by Daphne du Maurier until a few weeks ago but I am now fully prepared to drop everything and empty the nearest bookstore of all her books so I can binge-read them immediately and cry when it's over. Every page of Rebecca was interlaced with the most vivid descriptions of absolutely every aspect of its gothic setting, and usually I get pretty bored when an author does this, but I genuinely cared so much about everything. I wanted to be able to picture every nook and cranny of Manderley in my mind and by the end I really could. The characters she crafts are all full of so much intrigue, perfectly flawed and I loved every one of them.
And if you've read this and you saw that plot twist coming, I don't trust you.
🥀
Eliza and Her Monsters by Francesca Zappia

This book is my equivalent to a soft, heated blanket - put them both together and the world has achieved peace. Eliza and her Monsters came to me at a time when I truly needed that warm, comforting feeling from a book that reality didn't have, and that's exactly what it gave me. It talks about so many things that YA contemporaries should
: mental health, fandom culture, the internet, being an introvert/nerd/social recluse, art and writing and features the most adorable, heartwarming romance between two precious misfits in all literary history. I found so much of myself within this book and it will stay with me forever.
🥀
Strange the Dreamer by Laini Taylor
Despite having finished it almost two weeks ago now, I still can't really write coherently about how much this book means to me and how much I want to do nothing but sleep for a month and only wake up once my beautiful hardback sprayed-edge copy of Muse of Nightmares has arriv
ed on my doorstep. Laini's Taylor's writing is like buttery fudge dissolving on your tongue and entices you into her beautiful, complex world of enormous libraries and blue-skinned goddesses. This book encapsulates everything good about YA fantasy and I still feel roses blooming in my heart every time Lazlo Strange and Sarai cross my mind.
🥀
The Seven Husbands of Evelyn Hugo by Taylor Jenkins Reid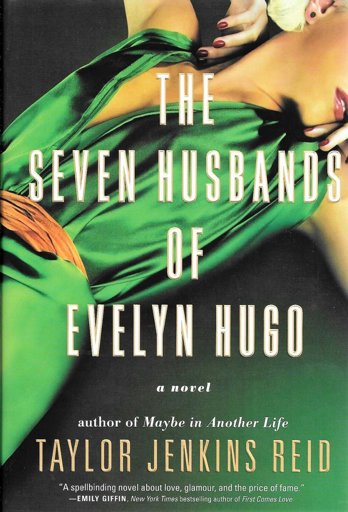 Call me dramatic but I feel as though this book has fundamentally changed me as a human. For one and a half days, my entire being was utterly consumed by Evelyn Hugo and her scandalous Hollywood life and I was genuinely tempted to go out in an emerald green dress and buy expensive bottles of wine and drink them alone in a hammock just because Evelyn would. I'd never ventured into the realm of adult historical-contemporary fiction and I only really picked this book up because nobody would shut up about it. But now I'm eternally grateful that they didn't because it was pretty much perfect. While it's chick-lit and fun, it truly delves deep into what it was like to be a woman in 20th-century America, let alone a bisexual one, as well as the truth behind show business and so many things that I've rarely seen touched upon in literature. I'm so glad this book exists.
🥀
If We Were Villains by M. L. Rio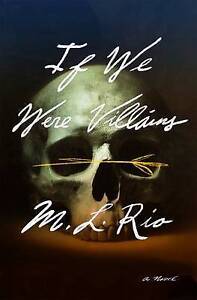 I don't like thrillers. I don't read thrillers. So obviously my expectations for If We Were Villains were not sky-high when I picked it up; it was more a case of just wanting to get it off my TBR.
But holy shit, I am now obsessed with this book.
If We Were Villains is a dark gem hiding in the shadows of the bookish world. So painfully und
errated and unread. If you happen to already own this, I implore you to walk over to your bookshelf, pick this book up, make a pumpkin-spiced latte and sit down to read it right now (but not until you've finished with this post, obviously). Mysteries do not come more autumnal than this; it's disturbing, it's ominous, it's menacing - Halloween even plays a significant role in it. An even more significant role, however, is played by William Shakespeare. This group of young, flawed drama students (who honestly feel like real people to me) converse in Shakespeare quotes like it's their first language and it had the English Literature nerd inside of me rejoicing. M.L Rio has created a masterpiece that I'm sure I will go back to again and again. And don't even talk to me about the ending, I am not okay.
-
I'm not too sure how my reading is going to go next month due to going back to school and actually having to do some work instead of lie in bed reading all day, but nevertheless here are some books I'd really like to get to in September if I can:
✨ The Poison Bed by E.C Fremantle
✨ The Shadow of the Wind by Carlos Ruiz Zafon
✨ Ramona Blue by Julie Murphy
✨ Jinxed by Amy McCulloch
✨ The Paris Seamstress by Natasha Lester
✨ Dear Evan Hansen by Val Emmich