books i read in september 💫
I can't really believe I managed to get through so many books in September, considering it was my first month at college and I've been ruthlessly crushed to a very flat, very stressed pancake by all the assignments I've had. But as we all know, escapes from the burden of reality come in no better form than a good book, and luckily I read many of those.
I also was lucky enough to be invited to a #DrinkYA event by Trapeze Books to celebrate the release of Hank Green's debut novel, An Absolutely Remarkable Thing. It was such a lovely experience meeting so many like-minded bookish people and fellow bloggers, the highlight of course being an exclusive video message from Hank himself reading a never-before-heard chapter of his book - which, by the way, sounded amazing and I am so incredibly excited to get around to reading it in the next couple of months.
❇

No. of books read:

9
❇ Pages read:

2932
❇ Genres:

5 fantasy, 3 contemporary, 1 classic
Harry Potter & the Philosopher's Stone / Chamber of Secrets / Prisoner of Azkaban
★★★★★
I'm not sure I can fully confirm that you're human if you tell me that times of stress don't make you crave warmth and comfort - in other words,
home.
And as cheesy as it sounds, reading Harry Potter feels like coming home. A magical setting that warms my soul, familiar characters who I love with every fibre of my being, and storylines of which I know the plot like the back of my own hand but still have my heart racing. While Philosopher's Stone and Chamber of Secrets will always be precious little gems of the universe and the sweetest cinnamon rolls if they could manifest in food form, this mini reread made me realise it's the stuff that happens in Prisoner of Azkaban that truly gives me the feeling of
holy shit this story is so incredibly well crafted and if you cut open my heart it would just explode with a million hugs and kisses for this series.
The end part when Harry and Hermione go back in time and he thinks he sees his dad conjure the patronus but it was actually him? I could have sobbed (I didn't because I'm clearly incapable of outwardly expressing my emotions). Rereading the first three books deliciously satisfied my craving for what I like to call 'the Harry Potter feeling' and now I need to get on and read all of the 489273 books on my TBR so that I can finish the series without feeling unavoidable guilt (struggle #39 of being a reader).
Ramona Blue by Julie Murphy
★★★
I didn't enjoy this as much as I'd hoped which is sad. My main complaint is it was wayyyyy too long - Murphy could have told the same lovely story with far more eloquence in about 150 less pages. I just got bored and it took me much longer to read than it should have done. However, I would still recommend this as a solid contemporary with a cute love story at its heart, a wonderfully diverse cast of characters and a lot of important themes which were great to see discussed.
Dear Evan Hansen by Val Emmich
★★★★
This book utterly melted my heart - thank you so much to Penguin Random House for sending me a copy and giving me the chance to read it before its release date. Evan is an adorable high school senior with social anxiety and a passionate hate for therapy and school, who finds himself entangled in a web of lies stemming from the death of his 'friend' Connor Murphy. Its overall message is inspiring, hopeful and so necessary in today's chaotic world, bringing to its forefront the question of whether it is ever okay to lie in order to alleviate somebody else's suffering.
I'm really not sure how this is handled as a Broadway show as suicide is not exactly a singing matter, but nevertheless if anyone would like to purchase a ticket for me to a theatre in LA so I can find out, I would extend my gratitude. Until then, I will proceed to listen to the soundtrack, on repeat, every day, unapologetically.
The Caged Queen by Kirsten Ciccarelli
★★★★
A copy of this was kindly sent to me by Gollancz for my participation in their blog tour, and I truly did not expect to love it as much as I did. Although I was aware of the hype around it, I never actually got to reading
The Last Namsara
which made me a bit apprehensive about diving straight into this companion-type novel, but I had nothing to worry about - not once does Ciccarelli leave you confused about the world or the characters within it, and I'm now left with a gaping hole in my heart that I'm pretty sure can only be filled once I've actually done the whole thing properly and read the book that precedes it. Read my full review here.
I Was Born For This by Alice Oseman
★★★★★
I'm not even going to try and speak coherently about this book. I feel like it just dragged me into whatever living equivalent of heaven there is and I don't think there will ever come a day when an Alice Oseman book doesn't have that kind of effect on me.
I Was Born For This was many things. It's the story of when the lives of a hijabi Muslim teen called Angel Rahimi, whose life revolves around The Ark (an internationally famous boyband), and a biracial gay trans member of the Ark called Jimmy Kaga-Ricci, unexpectedly collide. It's a butterfly net of chaotic beautiful feelings, the dizziness of belonging to something you would die for, the unbridled happiness of being young, all packaged up in a book so wonderfully relatable it feels like a spontaneous heart to heart with Alice Oseman herself. After investing my entire soul into Radio Silence (still haven't got it back yet) I was terrified that I would be let down. But I Was Born For This had that exact same warm energy mixed with those devastating moments that feel like ice-cold liquid gold rushing through your veins (the most nonsensical simile ever but I just can't articulate properly how much I just want to bury myself into Alice Oseman books). I loved all of the characters; Jimmy, Rowan and Lister need to stop being so precious because they're fictional and I can't physically hug them. I loved how this book was the biggest advocate of passion, of investing your time in the things that produce the purest secret happiness for you. It discusses self-discovery, mental health, identity, but most of all it's a beautiful love letter to fandom.
One day I'll get my life together and write a full review for this as well as Radio Silence, but for now I will say this: if you've ever been a fan of anything in your life, then there is no way you won't be besotted with this book.
The Great Gatsby by F. Scott Fitzgerald
★★★★
I read this in one day. I have NEVER read a (modern) classic in one day before, but I just could not stop reading this. I'm so mad that I don't get to study The Great Gatsby at A-Level because it is so rich in subtle motifs and societal criticisms and complex archetypal characters that I feel I would have appreciated and understood far more if I could discuss it in a classrooms and gather different interpretations on what F. Scott Fitzgerald might have really been trying to achieve. Nevertheless, I was dying to read it myself for so long and it definitely did not disappoint with those glorious 1920s Jazz Age vibes I was hoping for. Sure, there were parts of it that were slightly lost on me and it was much sadder than I thought it would be, but the writing was beautiful and I loved the dry, ironic wit that came through in Nick's narration. And, of course, Jay Gatsby, who dreamed a dream with the passion and courage few possess, only to find it shattered when he is *this* close to it. A book of moral corruption, selfish flaws and misguided hope and which I would definitely reread again in a few years time.
The Cruel Prince by Holly Black
★★★★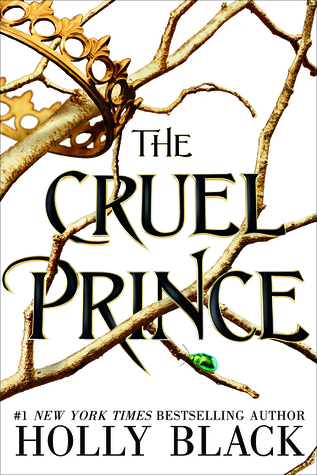 I'm going to honest, I took me a good while to truly become invested in this story and work out what was actually going on. But once I was in, I was
in.
The Cruel Prince
is definitely one of the most dark and twisted fantasies I've ever read, with characters ruthless and charming in equal parts. It's an elaborate game of fae politics that completely kept me on my toes with its constant twists and reveals, scenes that go from heartwarming to heart wrenching in a matter of lines. Jude was such a brilliant protagonist who captured my heart despite all her moral
grayness
, and Cardan… well, I don't even have words. One of the things I liked most about this book was how none of the characters were perfect - far from it. They do bad things and are never excused from their crimes, but they learn to deal with the ramifications and emerge as stronger people from it. And if you're looking for the slowest and most agonising but also the most powerful and rewarding hate to love romance in the world, look no further. I guess you could say this whole book reads like one giant tragic ballad, but I was here for every second of it and the fact
The Wicked King
is released on my birthday is 100% a sign that I'm destined to fall even more in love with this series.