books i read in november 🌠
November was such a good reading month for me - not only did I manage to get to a lot of books, but over half of them were 4 or 5 star reads!
❇

No. of books read:

10
❇ Pages read:

3356
❇ Genres:

1 magical realism, 2 sci-fi, 2 fantasy, 2 contemporary, 2 historical fiction, 1 classic
The Astonishing Color of After by Emily X.R. Pan
★★★1/2
Even though 3.5 stars is a decent rating, I was slightly disappointed that I didn't love this more. This is a very moving story that deals heavily with the topic of suicide/depression, which I thought the author handled with great care and the way she crafted her characters and their emotions felt incredibly authentic. Drawing the reader into Dory's mental state, we get a raw, unflinching look into what it's like to live with mental illness and the repercussions this has on those who live with you. Leigh was such a flawed, realistic character, trying desperately to make sense of her own half-cast identity and Taiwanese heritage, a complicated relationship with her childhood best friend, and most importantly the aching grief for her mother that is folded up inside her; hearing her voice her loss was beautiful, made particularly so by the way Pan plays with colours and poetic symbolism in her writing. All of this being said, I guess ultimately I felt this book was just a bit too long. The story moves incredibly slowly and during the middle 200 pages or so I was getting kinda bored. I also wasn't a fan of some of the magical elements, but I think this may just be a problem I seem to have with magical realism in general. So while I thought this was definitely an impressive debut novel from an author I will definitely continue to check out, overall I can't bring myself to give it more than a 3.5.
Daughter of the Burning City by Amanda Foody


★★★★
This was SUCH a good autumn read - magic, mystery, murder, debauchery and sin unraveling within one of my favourite fantasy settings ever - a travelling circus.
An Absolutely Remarkable Thing by Hank Green


★★★★★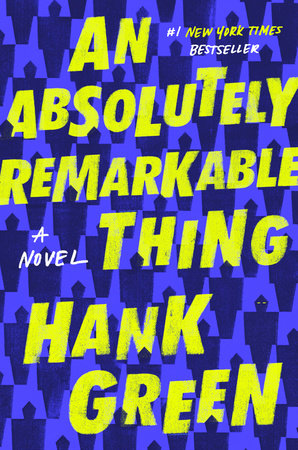 Wow, this book took me COMPLETELY by surprise with how much I absolutely loved it. I honestly could not put it down - the plot and the characters utterly compelled me, and the strange blend of contemporary and supernatural in the alternate New York Hank creates was so unique - I can't even express how excited I am that there's going to be a sequel. Although I think a lot of readers would find April May to be a pretty unlikable narrator, but
I loved her -
she's wry and confident and immensely flawed, but what I loved most was how self-aware she was, how she didn't sugarcoat the less pleasant sides of her personality. As well as being a story about a quest to figure out the origin and intent of a random alien sculpture, Hank's debut is a sly social commentary on so many topical themes in today's world. It's a forward and honest discussion about social media, the unnameable desire to be liked and the commodification of the self it perpetuates. There are undercurrents of politics, the human fear of extraterrestrial life, being a good friend, and the desire to be part of something extraordinary. One of my new favourites of all time.
The Loneliest Girl in the Universe by Lauren James
★★
★★
After becoming obsessed with Hank Green's contemporary sci-fi story, I desperately craved something of a similar genre and this one seemed perfect. I think I would, however, put it somewhere more in the sci-fi thriller category because this TERRIFIED me. I went into this book thinking it was going to be a nice space rom-com, but what I actually got was a chilling, high-stakes mystery that hits you with one shock after another. I have to say, I did kind of predict one of the major plot twists, but everything else shook me to the core (and made me feel incredibly claustrophobic).
This Song Will Save Your Life by Leila Sales
★★
★★1/2
This book is gut-wrenchingly sad but incredibly important. Although we are different in a lot of ways, Elise and her story now means the world to me; she's a character that desperately needed to be written in order to be a comfort and a validation to everyone out there who feels like they don't fit in. It's a story about being different, lonely and misunderstood - who hasn't felt that way at one point or another? It's about finding something that helps define who you are as a person, that one thing that it yours and yours alone. For Elise, it's DJing. For me, it's reading. My heart broke for Elise over and over, and at times I was on the verge of tears, but I enjoyed every damn emotion I felt.
Damsel by Elana K. Arnold


★
This was a hot mess. Boring, way too graphic with despicable characters who I think we were actually supposed to like. I think you're either going to love or hate this book, and unfortunately the forced, heavy-handed depictions of all forms of abuse, including sexual, animal, physical and emotional abuse (none of which were never even challenged), as well as the constant misogynistic and sexist comments, very much rubbed me up the wrong way.
Jane Eyre by Charlotte Bronte


★★
★★1/2
My heart honestly threatens to explode with love for the Brontës. I was very intimidated by Jane Eyre, simply because it's so long and it takes me ages to read classics as it is, but reading this slowly over the course of the month worked so well for me. I do want to write a full review at some point because there's so many points of discussion regarding this book, but for now I'll just say that I'm so glad to join the community of people who adore this book and its wonderful heroine.
Speak by Laurie Halse Anderson


★★
★
Speak is an incredibly powerful little book about sexual assault and trauma, one that I think should be taught in schools to teens across the world. I loved Anderson's unusual writing style, a sort of unfiltered stream of consciousness that made Melinda's narration brilliantly raw and authentic. For such a sad subject matter, there was a lot of very dry humour throughout which added an interesting dynamic to her character. However, despite brilliant character growth and excellent tackling of a subject that, before Speak's publication was rarely discussed particularly in YA books, I ultimately wasn't blown away by it. While I understand that the book wasn't written to have a riveting plot, I kind of wished a little bit more had been going on at times, and the ending also felt very abrupt to me. Melinda was really the only character that seemed at all developed which was a bit disappointing as well. Nevertheless, still a very important story and I'm glad I finally got around to reading it.
The Guernsey Literary and Potato Peel Pie Society by Mary Ann Shaffer


★★
★★★
This book consumed me whole. There is nothing I love more in this world than books about books - when you combine that with historical fiction focusing on the war, the result is my ideal story. And that's EXACTLY what this was. If feelings were smells, I would bottle the cosy, comforted feeling The Guernsey Literary and Potato Peel Pie Society gave me and spray it all over myself whenever I felt down. For such a tiny book, there is so much feeling, so much humour, so much heartbreak packed into the letters that tell this charming tale, unflinching in its wartime recollections and an utter testimony to the power of words, of literature to overcome any barriers man could possible put in the way of our happiness. A complete masterpiece that I'm sure I will reread time and time again (and the acknowledgements made me cry).
Dear Mrs Bird by A.J. Pearce


★★
★★★
I truly cannot believe how underhyped this book is - it deserves SO much more attention. After becoming completely wrapped up in my love for The Guernsey Literary and Potato Peel Pie Society, all I wanted to read next was something just like it, a WW2 story with the same witty and charming style, and so Dear Mrs Bird stood out to me as a strong contender. And guess what? In the space of two days I found two new favourite books of all time. I can't even express how glad I am this book exists, a beautiful tribute to the lives of the women who were left at home during the war and the very real problems they faced. It's a story about love and loss, but most of all it's about friendship and optimism in the face of adversity, told by protagonist whose endearing personality beams out of every single page. I recommend reading this book immediately (and also listening to The Brit Lit Podcast with A.J Pearce where she talks about how the idea for Dear Mrs Bird came into being).