books i read in january ☽
Happy 2019! 🎆
I'm really pleased to say that my reading is off to a great start this year, with a couple of new all-time favourites found already. I've set a goal for myself to read a minimum of 8 books each month in 2019, which I managed to just surpass in January! Another goal is to re-read one of my favourite books every month, although I'm not going to count those in my wrap-ups because I've probably talked about them already elsewhere on my blog. This month I re-read Radio Silence by Alice Oseman, and am pleased to report that it made me cry just as hard second time around.
So without further ado, here are all the books I read in January! 🌟
❇
No. of books read:
9
❇ Genres:

2 contemporary, 2 romance, 1 literary fiction, 1 dystopian, 1 fantasy, 1 historical fiction, 1 classic
The Light We Lost by Jill Santopolo


★★★★
When I first started reading this book, I was initially so disappointed. The premise of an epic love story that sweeps generations paired with all the raving reviews I'd seen gave me such high expectations of intricate characterisation and stunning prose, but that wasn't quite what I got. It wasn't until around halfway through, however, that I realised it was past midnight and I was so invested in the fate of these characters that I just could not stop reading. An hour later, as I turned the last couple of pages, I was sobbing.
Lucy and Gabe's love story is filled with such intense passion, desire and longing that it was difficult not to root for them. Santopolo crafts such a compelling and relatable look at the power of first love - even if it is, at times, a little melodramatic - and the love triangle she creates has you as a reader just as torn as Lucy is over whether she has made the right choice. As I said before, this got better as it went on, with some beautiful quotes about fate and romance scattered throughout. I also grew to love the structure of the story, with each short chapter serving as a vignette where Lucy is reminiscing about events across a ten-year span. Impossible to put down, and utterly heartbreaking.
A Very Large Expanse of Sea by Tahereh Mafi


★★★★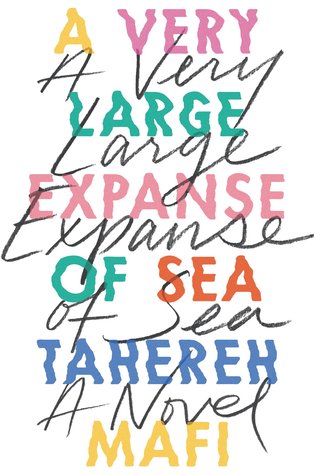 This book was such an important addition to the YA contemporary market. It tells the story of Shirin, a Muslim teenager, who is trying to navigate her way around high school and life in general after the events of 9/11 trigger immense racism and xenophobia to prevail across the US. I haven't lived a life that is anything like Shirin's, but being inside her head made sense - I understood everything she felt, all her fears and moments of immense rage. This book made me SO ANGRY at people and how awfully judgmental we are. The romance was a little cliche and ultimately not my favourite, but that didn't stop it from being super cute and I suppose the cliche moments in it were counterbalanced, and made kind of satisfying through the fact that finally I was reading about a Muslim girl being represented at its centre, which we don't get in YA nearly as much as we should. I absolutely flew through this story and loved every second of its unparalleled honesty.
The Female of the Species by Mindy McGinnis


★★★.5
This book was intense, but also somehow underwhelming at the same time. I've seen a TON of people give this 5 stars so I think maybe my expectations were a little too high, or maybe I just totally missed the point. Whatever the reason, the plot and morally-grey characters did hold my attention and I enjoyed reading from the multiple POVs, but ultimately I just wasn't a huge fan of the events that took place and at times the pacing felt a little off. That being said, this discussions about sexism and rape culture and what it takes to dismantle it were INCREDIBLE, and I loved the feminist themes that were prevalent throughout the story. I also really appreciated how McGinnis does an amazing takedown of girl hate and slut-shaming. I do think that the impact of the rape in this book would have been a lot more stark and powerful if she'd shown how a lot of cases of sexual assault happens at the hands of people you are friends with or know fairly well, rather than depicting the rapists as serial rapists and drug addicts. Overall, The Female of the Species had some really powerful and important messages to give, I unfortunately just didn't totally connect with the story.
A Room of One's Own by Virginia Woolf


★★★★★
There's not a lot I can say about this book (or essay) that hasn't been said before and probably much more eloquently. I totally understand why this is considered to be one of the greatest pieces of feminist literature ever - the way Woolf constructs her arguments were like nothing I've ever read before and I'm not joking when I say I highlighted over 50% of the book. I cannot wait to get around to reading more of Virginia Woolf's work.
Sing, Unburied, Sing by Jesmyn Ward


★★.5
I was hoping to really love this road-trip, family drama novel, but unfortunately I just couldn't get invested at all, neither in the characters nor the plot. At its heart, Sing Unburied Sing is an intricate character study of a contemporary African-American family in Mississippi, told through the perspectives of a mother and her son. I can very clearly pinpoint the two reasons why I couldn't get into this book. First and foremost was the heavy presence of ghosts. There are very blurred lines between the living and the dead - one of the ghosts even got their own chapters, which bored me almost to tears. While I can definitely appreciate that perhaps the author was trying to make social commentary about America's bloody racist past, which these ghost characters are all victims of, I personally just wished it solely focused on real people. The second thing was some of the very unnecessarily graphic descriptions of violence and, in one very early scene, animals being slaughtered. I'm not generally a squeamish person, but I found myself cringing uncomfortably at these parts. Overall, not a great start to my literary-fiction reading of 2019.
Unteachable by Leah Raeder


★★★★★
I never expected in the least for this to become one of my new all-time favourite books, but here we are. I'd never read a new adult romance before but I don't think I could have chosen a better one to start with, even though my expectations are probably going to be way too high whenever I pick up another one. I absolutely love a forbidden love story, it will always be one of my favourite tropes, but I especially love to read about student-teacher relationships (legality aside). The chemistry between Maise and her film teacher, Evan, was so intense and real from their very first meeting - Maise is fascinating combination of overly confident yet bitterly fragile, while Evan was pretty much my ideal male love interest. I fell in love with both of them individually as characters, which of course made their relationship fascinating to read about. This book was much darker - and also had a lot more sex - than I anticipated, but both of these things I ended up appreciating a lot. The biggest surprise for me, however, was the intoxicating writing style - the author's prose is so utterly lyrical and compelling and creates an atmosphere of such feverish intensity that actually makes you feel a little high while reading it, in the best way possible. From the very scene of the carnival, I was absorbed and lost among the explosion of lights along with Maise, felt her apprehension like she was standing right next to me. I can't praise this book highly enough; as soon as I turned the last page, I had to stop myself from reading it all over again.


Station Eleven by Emily St. John Mandel


★★★★★
Another all-time favourite!! This time, though, I was kind of expecting to fall in love with Station Eleven, and thank goodness I was not disappointed. You really do have to suspend your disbelief with this novel - the premise is pretty out-there but in so many ways just felt like it was written for me. The themes of reviving art and humanity, finding a meaning that makes each day livable in a world where death and misery persists was so thought-provoking - 'survival is insufficient' is a quote that I think about most days now. Very simply, this is a book about people and their quiet resilience, told in an unhurried and captivating way. I will never forget this story.
The Lady of the Rivers by Philippa Gregory


★★
Don't have much to say about this one other than I truly wanted to love it - and was loving it for a while - but unfortunately just found it super boring and repetitive. The Tudor era is my favourite period of history so I had massively high hopes for Philippa Gregory's series, but it hasn't got off to a great start. That being said, I am going to give the next book a go, because the setting and the idea of giving a story to each of the prominent Tudor women is fantastic.


A Darker Shade of Magic by V.E Schwab


★★★.5
I have a lot of mixed feelings about this one. I can't help but feel a little bit disappointed, as I was hoping this would be a series I would instantly five-star and fall in love with, which isn't quite what happened. My main issue with it is that it seemed like nothing much actually happened. While there are a few good action scenes, for the most part the plot felt pretty weak which I found a little frustrating. However, what was truly making me look forward to picking this up again each time I put it down was the characters and the world-building. The concept of the four parallel Londons and the relationship each of them has with magic was so incredibly unique and absorbing - I found myself wanting to learn absolutely everything about the magic system and the history of each of the cities. It's so weird how V.E succeeds in breathing life and reality into a concept that is so utterly farfetched and shouldn't really be believable. Then we have our protagonists Kell and Lila, who each live very different lives but somehow find themselves entangled in a mission together. Separate from one another, I thought they were fantastic characters - Kell is the perfect mix of strong, protective, sarcastic and a little morose, while Lila is so infuriating yet admirably reckless, the badass female character of your dreams. Together, I thought their banter and balance of personality traits was charming, but the romantic tension - if you can call it that - between them left me feeling a little underwhelmed. I also didn't really develop a great amount of love for Holland as a villain, particularly in comparison to the Dane twins who was some of the most detestable characters I've read about in a long while. I was quite surprised by how self-contained the events of this book felt, so I'm intrigued to see what goes down in the sequel.