books i read in april ⚘
I'm really pleased with how my reading went this month! Due to hitting a bit of a reading slump at the beginning of the month, I ended up getting around to two very overdue rereads of some all-time favourite books - We Are The Ants and The Fault In Our Stars - as well as discovering a couple of new favourites too. I also read a book from the library for the first time in ages! (even though I kind of hated it whoops)
I hope you enjoy my reviews! ♡
✨ Number of books read:

9
✨ Ratings:

1 x ★★ / 2 x ★★★ / 3 x ★★★★ / 3 x ★★★★★ (i
ncluding 2 rereads)
✨ Genres:

3 YA contemporary, 1 adult contemporary, 1 NA romance, 2 historical fiction, 1 fantasy, 1 magical realism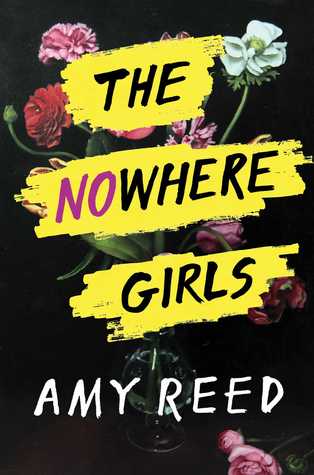 THE NOWHERE GIRLS by Amy Reed
Rating: ★★★★.5
This book was SO GOOD. The Nowhere Girls is the perfect empowering YA feminist contemporary and it made my heart sing to see this intersectional group of women linking arms and ending the oppression of their gender.
While at the heart of this novel is a beautiful feminist take-down of rape culture, Reed also manages to inaugurate many other important discussions through her diverse cast of characters. Our main three protagonists are Grace, Rosina and Erin and I adored all of them, especially Erin for the way she broke literally every untrue stereotype you've ever heard about people with Aspberger's - some of her sarcastic comments made me laugh out loud. The three girls feel very distinct from one another, coming from very different backgrounds and each with their own unique personality, but they compliment each other so very well and it was beautiful to see them bond over a passion for taking a stand against a system that just didn't care about a young girl's immense trauma. Within the narrative, countless themes are explored: faith, discrimination as a teen of colour, the concept of virginity, the bias court system in cases of sexual assault, immigration, sexism - just so many important things that need thinking and talking about, and I'm so glad this book exists to encourage just that.
What makes The Nowhere Girls such a powerful story is the fact that it's like a physical manifestation of all the things we as women may have held back from saying before, forcing you to remember all the tiny moments where the patriarchy suppressed or hurt you and left you no choice but to let it go. It's a book that forces you to confront injustice and emboldens you to go out there and do something about it, to make change.
I've taken off half a star just because a lot of the conversations, as well as the writing of some of the emails, felt a bit too mature for a group of teens. As someone who is the same age as these characters, I think a few of the viewpoints they took just felt a bit too adult and sophisticated to feel entirely realistic. However, that is a small critique and I am nevertheless really glad that these conversations were addressed in order to develop the discussion of sexism and rape culture.
Overall, The Nowhere Girls made me angry and emotional and full of joy all at once, but best of all it reminded me of how much I love women. One of my new favorite feminist novels.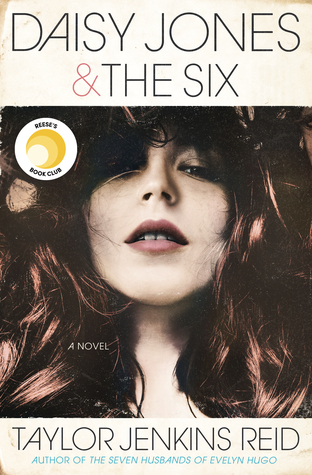 DAISY JONES & THE SIX by Taylor Jenkins Reid
Rating: ★★★★★
Taylor Jenkins Reid does it again. Even though loads of people recommend reading this through audiobook because of the interview format, I read it physically and could NOT have been more emotionally attached to this story. As much as I absolutely adore this book, I also kind of hated it for a few days because it put me in a pretty bad reading slump - all I wanted was another story like this one. After being completely transported to the most iconic age of rock 'n' roll, my two immediate courses of action after turning the final page were: 1) download Audible and reread it again from the beginning, and 2) carefully put together a 'Daisy Jones & The Six' playlist so that when i wasn't listening to the audiobook i could fill my ears with the vocals of Fleetwood Mac and Joni Mitchell. There is nothing better than when a book completely takes over your life like that, even if it didn't do any favours for my productivity. Goodness knows what's going to happen to me when the TV mini series comes out. I loved all the characters in this book with my whole heart, but it was Billy, Daisy and Camila that I came away with imprinted on my soul and dancing in my brain. The love triangle in this story is not only absolutely heartbreaking and made me SOB, but it incorporates an incredible study of the experience of women in love and in the music industry. In fact, Karen had some pretty incredible one-liners about taking nobody's shit and demanding credit where it's due, as well as the importance of supporting other women. Wow, it made my feminist heart SING. I also think this story will be very touching for many readers because of it's incredibly exploration of addiction, bringing light to the glamorization of drugs in the '70s and exposing the true devastating nature of substance abuse. Just like I refuse to believe that Evelyn Hugo was not once a real Hollywood star, I also refuse to believe that The Six was not a real band. The way Taylor Jenkins Reid paints her characters so unbelievably vividly will never cease to blow me away. Daisy Jones & The Six exceeded every single one of my expectations; it's a scandalous and tortured love story that I will never forget.
ADELE by Leila Slimani
Rating: ★★★
After completely devouring Slimani's debut, Lullaby, I expected to really love Adele too. Unfortunately, this one didn't blow me away like I'd expected, and for a book that's so short I actually really struggled to get through it. That being said, at the time I'll admit I wasn't in the best headspace to read, so no doubt that influenced my reading experience quite a lot, and there is nevertheless a lot to be praised in this book.
Slimani is incredibly talented at writing these gritty, morose, almost grotesque character studies within about 200 pages that will linger in your mind for a while after you read them. Adele deals with a woman who, on the surface, has a seemingly perfect life, but nothing could be further from the truth; finding her life deeply unfulfilling, Adele is suffering an uncontrollable addiction to having sex, often quite violently, with strangers, largely out of a desperate need to feel something and detach herself from reality.
Now this is probably the most unsexy book about sex that you will ever read - many of the scenes in here are almost painful to read and had me literally wincing. Adele is nothing less than a MONSTER, one of the most unpleasant protagonists I think I've ever read about. But at the same time, she is never unbelievable. I think Slimani certainly intends to make the reader feel discomfort while reading, and I really appreciate how in her books she delves into the minds of women to explore taboo subjects, to expose the nakedness of the self beneath outward appearances, our hidden desires and obsessions.
Just like in Lullaby, the writing style is direct, edgy, raw and emotionally attached which isn't going to suit everybody's tastes but personally I think suits the story very, very well. I know a lot of readers also struggle with the way Slimani doesn't give an explanation for why her characters are the way they are and do the awful things they do, but again this is one of the reasons why I think her stories are so dark and impactful. She does a brilliant job of examining the damaging effects of Adele's addiction and self-destruction without judgment and steers away from trying to psychoanalyze why Adele feels an insatiable need for sex all the time, instead solely focusing on the demons inside her head. We don't always need concrete answers, and in many ways the lack of them in this story makes it all the more haunting.
Despite all of this praise, I only felt I could give this book 3 stars overall because for me I went in expecting the same simmering tension that Lullaby had, but in reality a large part of this book felt a little boring and repetitive and the slow pace ended up dragging. However, as I said before I definitely wasn't in the best place when i read it which for sure contributed to why I wasn't overly captivated, so at some point in the future I might give it a reread.
I can't wait to see what Leila Slimani does next!
RUST & STARDUST by T. Greenwood
Rating: ★★★★★
This book was terrifying but so incredibly powerful and important. I've never read Nabokov's
Lolita
, but after learning in
Rust & Stardust
about Sally's true experience, I am so very glad that Greenwood has brought it to light, and saved it from being simply a footnote to someone else's story. It's clear throughout the book that the author has properly done her research and I truly think she has done Sally's horrifying story justice.
I think what makes this book so masterful is the way Greenwood gives a voice to all of the important people (i hesitate to call them 'characters') in Sally's life, both the family she leaves behind and the people she encounters along the way. It was painful to read from Sally's perspective as an 11-year-old, naive and unquestioning of Frank while we as readers can see straight through the excuses he layers upon her for why he's prolonging their stay for weeks, or tying her up when he goes out. But what is perhaps even more scary is how easily her mother, Ella, is fooled and simply hands off her own child to a criminal without a second thought. While it would be easy to loathe her for this, the chapters from Ella's point of view were some of the most moving; the unbearable guilt she felt, and the physical and emotional pain that it causes her, is so vividly portrayed and unimaginable, it's like a weight pressing down on you as you digest the feelings carried in her words. As for Sally's sister Susan, however, i kind of struggled to understand her particularly in the beginning. Her reaction to Sally's kidnapping by a convicted sex offender seemed nowhere near as urgent as I felt it naturally should have been; in her chapters, she's almost solely preoccupied with her new baby (which I suppose is somewhat understandable) and some dumb plants she takes round to her mother as though that will fix everything for her. Really it was left to Al, her husband and Sally's brother-in-law, to be the one making the calls every day to inquire after the investigation, and even to go and look for her himself. It was so hopeful to see his desperation to find Sally, while also being a key support for both Susan and her mother, and because of this I think he played such a shining role in this story. The same can be said for many of the people Sally comes across during her time of abduction, how Sally's situation affected them and how they tried to do what they could to help her, again providing little beacons of hope and humanity along the ugly, inhumane journey Sally is taken on. Ruth in particular was an absolute gem, and I fell in love with her.
I can't quite get over how beautifully written this book was. Almost every sentence brimmed with emotion and really lent itself to speak on Sally's behalf. I also thought the way Greenwood spun fictional characters and events using the delicate threads of true fact was absolutely wonderful. She manages to encompass everything that makes this story so incredibly important. The violation of childhood innocence. The danger of trust. The intertwining of unbearable grief and guilt. The depths of human cruelty that forced a little girl to grow up much too fast, and the small moments of joy that enabled her to survive it all. I shed so many tears, in fact I was practically sobbing solidly for the final 50 pages. This is not a comfortable read by any means, and it's not supposed to be. It's supposed to haunt you and make you think, and sometimes those kind of reading experiences are the most worthwhile.
THE RAVEN BOYS by Maggie Stiefvater
Rating: ★★★★
This book is an eclectic mix of so many weird and wonderful things.
trees that speak Latin

tarot cards

graveyard ghosts

journals and old maps

magical forests

badass girls

perfect precious boys with tortured souls and buzzcuts, who suck on mint leaves and wear fraying private-school uniforms
I loved reading this so much, even if I am a little late to the fandom. Maggie Stiefvater's writing is breathtakingly lyrical, humorous and atmospheric all at once. To be quite honest, the main plot about ley lines and a dead Welsh king didn't overly intrigue me at all - especially considering how incredibly hyped this series is - and I found the ending to be fairly abrupt and confusing. However, what I think is going to make this one of my all time favorite series is THESE CHARACTERS. I absolutely adore Blue and her psychic mum and many aunties. Noah and Ronan I'm a little conflicted about, but can't wait to see where the next books will take them... I have a feeling I'm going to get fatally ATTACHED.
But most of all, I have fallen completely and utterly head over heels in love with Adam Parrish and Richard Gansey III. I would marry both of these precious young men tomorrow if I could - they are flawed, realistic and deserving of all the love in the world. Two new book boyfriends have officially been discovered. Maggie Stiefvater could commit absolutely atrocities with her plot and I would still keep reading these books just to see Adam and Gansey develop individually and in their relationships with the others. I'm SO excited to reunite with them in the next book ♡
THE FAULT IN OUR STARS by John Green
Rating: ★★★★.5
This is probably about my fourth reread of this book in my lifetime, but it's the first time I've reread it since having a blog so here we are. Even though I acknowledge that TFIOS has its flaws, that maybe Green writes his characters a little too mature than what is realistic for their age, that maybe it doesn't have as much diversity as it could have, that some parts could come off to some as a little cringey - but honestly I don't care. Maybe it's my nostalgia speaking, but even though this book was published in 2012, I genuinely believe it is still deserving of its acclaim as one of the best-written, emotional and relatable YA contemporaries of all time. The ending has never failed to make me cry, and Gus has never failed to make me swoon (especially now that i can cast him as Ansel Elgort in my head). The only reason why I feel like I can't give TFIOS a full 5 stars is just because it always takes me a little while to get used to a middle-aged man narrating from the perspective of a sixteen year old girl, not always entirely accurately in my opinion (but what do you expect). Nevertheless, I am completely in love with pretty much everything else. The characters brim with intellect and curiosity and humour - even if they are borderline pretentious - and the dialogue is perfectly constructed and razor-sharp. Green has just written such a poignant timeless story about first love, identity and loss that is the perfect mix of humour, tragedy and philosophical meditation. This book will never grow old for me and I plan to reread it countless more times for the rest of my life.
THE WITCHES OF CAMBRIDGE by Menna van Praag
Rating: ★★
I picked this book up on a bit of a whim from the library because the title and premise of it sounded so magical and intriguing to me: a book club of Cambridge University professors, who also happen to be witches, that meet late at night on the college roofs to discuss literature and drink hot chocolate. SO much potential... but incredibly poor execution. And very different to what I anticipated. Wow, so much of this story was just a mess. First of all, I was so disappointed with how minimal a role the book club actually plays in the story, and how overwhelmingly unmagical it felt. I think I counted about two scenes depicting their meetings. To go with that, I think there needed to be so much more description of Cambridge, both the university and the city, to build up an actual sense of setting. We get so little description that it was almost like the author expected you to have been there yourself and thus be able to picture in your head already where the characters are. It also would have been a good opportunity to try and build up a bit of an atmosphere, but unfortunately that fell flat too. THE CHARACTERS. WERE. SO. BLAND and for the most part didn't even act like they could be real people. Pretty much every line of dialogue or inner monologue came across as contrived and made it impossible to see the characters as anything more than purely fictional (which sounds stupid, but I think most readers would agree that the best books have characters that feel like real, relatable human beings). To make it worse, so many of the plot points were simply convenient, or lacked explanation, or just seemed entirely unrealistic - I can only suspend my disbelief to a certain extent, and this book definitely crossed the line. I have to say, I absolutely HATED Noa's storyline with Santiago, as well as the very poorly written love triangle situation between Kat, Cosima and George. The magic and 'spells' elements went completely unexplained and underdeveloped the whole time, and the ending became so increasingly awful that I ended up just skim reading the last 40 pages because I simply could not be bothered anymore. The only saving graces in this book, and the reasons for which I'm giving this 2 stars, were the discussions of art and literature (which I'm always a sucker for), and Heloise's storyline which I actually found to be super endearing and sweet to read about as she tries to liberate herself from the grief of her husband's death and revoke her passions. Another positive I suppose would be that it was very quick to get through. Ultimately though, this doesn't make up for the rest of the poorly written characters and farfetched plot. I feel bad saying this, but in another author's hands i think this brilliant idea could have been executed to a much better standard.