books i read in may
✨ Number of books read:

8
✨ Ratings:

1 x ★★ / 1 x ★★★ / 6 x ★★★★
✨ Genres:

2 literary fiction, 2 romance, 1 adult contemporary, 2 YA contemporary, 1 fantasy
STAY WITH ME by Ayobami Adebayo
Rating: ★★★
This was a really enjoyable literary fiction story that vividly captures a woman's desperate attempt to get pregnant, and the subsequent agonies of loss. Adebayo delved into a number of important themes that I love to read about, including love, loyalty, family, jealousy, betrayal, identity, culture and, at the centre of it all, motherhood. I really liked the way the novel was structured, with the majority of the book set in the 1980s and recounting the growing tensions and cracks that begin to emerge in Yejide and Akin's marriage due to Yejide's struggle to conceive, while at the very beginning and very end of the book we see them years later in 2008 as they prepare to see eachother again for the first time after decades have passed. Though none of the characters in the book are particularly likeable, they embody a messy and sincere humanity that to me really reflected the unfiltered versions of the people we all truly are. I've heard some people say that they thought this read somewhat like a thriller, and while I wouldn't go that far, I definitely agree that the plot never settles into a predictable narrative and is indeed fuelled by countless secrets; this made for a very readable story that took me by surprise at times and effectively reflected how you can never predict the path your life will follow. I also loved how the author incorporated the political climate of Nigeria in the 1980s into the events of the story, as well as exploring the social and cultural expectations that differed quite dramatically between different generations and people. The most prominent of these was the way in which female identity is tightly interlinked with being a mother, and the subsequent stifling pressure this can put on women, whether they wish to have a child or not. However, while I appreciate this is a debut novel, I found the writing to be a little simplistic and I tend to prefer literary fiction novels with slightly more experimental and/or lyrical prose than this one. I also think the book would have benefited from exploring some of its themes a bit more deeply in order to make the story truly affecting. Along the same vein, I was left wanting more from the characters too; I enjoyed the use of alternate perspectives and getting to hear the story of their marriage from both sides, but I thought Adebayo could have delved even deeper into their psyche to try and develop their motivations and the reasons behind why they do the questionable things they do, because although there is a good deal of tragedy and loss in this story, I sometimes had a hard time truly connecting and empathizing with the couple.
WE ARE ALL COMPLETELY BESIDE OURSELVES by Karen Joy Fowler
Rating: ★★
This is one of those literary fiction novels that for years I've seen be so highly acclaimed by critics everywhere, yet ended up being such a disappointment when I finally got round to reading it. Getting through this was such a struggle; I couldn't connect with any of the characters, didn't like the narration style and ended up skimming paragraphs because I was so bored. This is an exceedingly difficult book to review without completely spoiling the fundamental 'plot twist' of sorts that is revealed around 1/3 of the way through, but I'll try my best. Fowler explores themes in We Are All Completely Beside Ourselves that I don't think I'd ever read about before in a book: the inherent relationship between humans and animals, the mistreatment animals suffer at the hands of our scientific research, and what fundamentally makes us human. This allowed for lots of thought-provoking observations on the behavioral psychology of primates and humans, which was clearly very thoroughly researched. The problem was, however, the central theme of this book holds absolutely everything else around it together; if it were to be removed, everything else that makes up the story would collapse. All of Rosemary's story, her time at college, her sibling rivalries and dysfunctional family trials, were simply vessels made for the author to advance her point of view on the issue of animal abuse. Even though it is not one that I disagree with, she completely neglects presenting an alternative view which i think would have added a much more interesting dynamic to a pretty one-dimensional plot line. Moreover, despite the use of second person narration at some points, the writing style of this book felt very impersonal and choppy throughout. I've seen people praise Rosemary for being 'engaging' and 'witty', but I only found her inner monologue and storytelling to be bland and a little tedious. I could not relate to her whatsoever (perhaps because of the age difference, but probably more because of her incessant whining), nor was I at all drawn into the dynamics of the Cooke family. Also, this book used an obnoxious amount of ridiculously long words, many of which I had to look up and could very easily have been replaced by much more simply and less disruptive words.
BLACK IRIS by Elliot Wake
Rating: ★★
★
★
Elliot Wake has done it again. I am officially obsessed with their books. I went into Black Iris thinking it was going to be a romance, but while this is indeed an intense lesbian love story, I would categorize the book more as a psychological suspense novel with no end of haunting twists and turns. I certainly was not prepared for how dark and twisted this story was from the offset - the author does not shy away from the darkest crevices of the human mind, our desperate hunger to feel something among the numbness, our tendency to feel too much and conceal our secrets, our craving for revenge to put to rest the demons of the past, to pursue a lifelong vendetta. I will never get over how perfectly this author writes - it feels like Wake thinks so carefully about each and every word, arranging them in a way that is just pure poetry. The way their lush vivid descriptions capture the melancholy feeling of late summer is intoxicating to read and closing the book is honestly like emerging from some kind of hypnosis. Picking a favourite quote or passage from this book would be impossible; I just want this entire book tattooed all over my skin. One of the things I loved most about Black Iris was the fact that there are no heroes and villains in this story, only a cast of pretty screwed-up characters who are incredibly complex and easy to hate at times, but still somehow earn your sympathy. Laney is the definition of an anti-heroine and I loved reading from her perspective. Diagnosed with BPD, she's very emotionally unstable, constantly high on drugs, reckless, manipulative and completely unsparing. If I'm honest, I much preferred reading about her relationships with Blythe, Armin and Donnie rather than her quest for revenge because to me it felt a little over the top and ultimately not justified. The relationship between Blythe and Laney was also breathtaking. They're like two magnets, always finding ways to reduce the distance between them to reconnect, always feeling each other's energy no matter how far away. and to be honest I think I was a little bit in love with Blythe myself. I thought it was fascinating the way the lines between friendship and love are blurred to produce this intense love triangle which I was quickly swept away in. It was a really powerful tool for the author to deeply explore both sexuality - the feeling of not being able to fit yourself under a sexual label - and very intense female friendship too. While I do think the author did a great job at cleverly planning everything out, the two intersecting non-linear timelines did sometimes have me very confused and the inconsistency made it really hard to remember what had happened at each point on the timeline, which did overall slightly hinder my enjoyment of reading the book. But overall, this was such a beautiful examination of mental illness, particularly intergenerational 'darkness' and how it interacts with the relationships between family members.
WHEN GOD WAS A RABBIT by Sarah Winman
Rating: ★★
★
★.5
I was really hoping to love When God Was A Rabbit and I was in now way disappointed. A charming, endearing story full of iconic lovable characters and beautiful passages, this book has for sure cemented Sarah Winman as one of my favourite authors.
There's just something inexplicable about Winman's writing that I can't fully describe, but it feels like being wrapped up in a warm blanket of words. She has a masterful way of poignantly illuminating the extraordinary nature of the ordinary, employing her poetic imagery to ignite life into moments both big and small. The little details and quirks and nods to Britishness she includes make Winman's books so special for me.
The voice of Elly as a child is so pure and ethereal, I read most of the first part on the brink of tears because it was such a beautiful experience to be an onlooker on her eccentric family life. Her reflections on life ring of truth and manage to be a perfect mix of hilarious, poignant and heartbreaking. The binding sibling bond between Elly and Joe was also a delight to read about; they share this sensitivity and awareness of the world around them that makes them special but at the same time broke my heart learning about the cruel things they have to deal with at such a young age. I adored the family and every friend who became part of the extended family unit - Winman defines them all with such kindness and quiet magic. They are flawed and passionate and laden with all the baggage and confusion that makes them painfully and vibrantly human. In my eyes, they represent both the people we are and the people we want to surround ourselves with.
The only reason I've knocked off half a star is because there were a few things that made this book feel very obviously like a debut, particularly the transition of Elly's narrative voice from when she is younger to many years later which i think could have been a bit smoother, and also the very confusing timeline in the second part of the book. But apart from those things, this was pretty much perfection.
THE PERKS OF BEING A WALLFLOWER by Stephen Chbosky
Rating: ★★
★
★
The Perks of Being a Wallflower is a cult classic in the YA genre and many people's favorite book of all time. Unfortunately i don't have the same warm nostalgic feelings for this book as others do, but I still really enjoyed reading it for the first time and can understand why it's so special to a lot of readers. Charlie is an incredibly sweet and relatable main character who we follow as he tries to carve a place for himself in the world. It's very difficult not to get invested in his story and be affected by his feelings of loneliness as a troubled teenage boy. He's so honest and emotional and makes many poignant realizations about life and love and friendship. To be honest I thought the simplicity of the writing style would irritate me, but it ended up being the perfect choice for Charlie's narration as it felt like it was written exactly how Charlie would speak, bringing a raw authenticity to every page. I also really loved the secondary characters, especially Patrick and Sam - they were such amazing friends to Charlie and changed his life for the better in so many ways. I wish more people like them existed in real life. This book deals with a lot of heavy subject matters: rape, molestation, depression, suicide and more. Even though it is not unusual to see these themes tackled in YA fiction now, this book definitely would have been pushing the boundaries in 1991 when it was published and so I'm sure was a precursor to all the amazing important stories that are being published now, which I'm forever grateful for.
THE FLATSHARE by Beth O'Leary
Rating: ★★
★
★
I don't read a lot of romcom-type books but The Flatshare just encompasses how cute and fluffy and heartwarming the genre can be when it is done well. This story is built on such a clever and unique concept with two main characters who are impossible not to love, and the way the author used the post-it notes between them to build up their relationship until it evolves into a deeper intimacy was so well done and had me chuckling multiple times. I feel books in this genre are oversaturated with female leads who are 'quirky' and 'relatable', and Tiffy does somewhat fall into such a category. However, this didn't end up bothering me too much overall because the author constructed a really compelling backstory for her and wrote her character in such a way that gave a wonderful human quality to her. Leon was also an absolute gem, very quiet but filled with lots of hidden emotions - the perfect love interest. This book was a lot more emotional than I expected from what seemed like a very light read - it dealt with some heavy issues regarding controlling relationships in a really appropriate fashion, and brought a new dynamic to a book that could so easily have been a generic romcom. Loved it!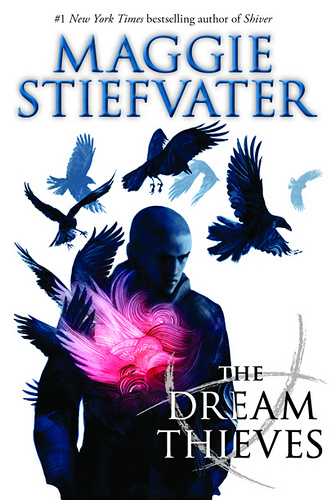 THE DREAM THIEVES by Maggie Stiefvater
Rating: ★★
★
★
Our Welsh king Glendower is still nowhere to be found, and the plot of this story still never ceases to confuse the hell out of me (what even was that ending??) but that doesn't matter because my heart has been completely and utterly ensnared Blue and the Raven Boys. I genuinely can't get over how real they all feel to me. I haven't felt this way about a group of characters for a long time, and reuniting with them in this book felt so comforting and almost nostalgic in a strange way. I will never get tired of reading about them, their wild shenanigans, their relationships with one another and peeling back the layers of their complex minds. The Dream Thieves centers primarily around Ronan, who I wasn't quite sure about in the first book, but I definitely feel a lot more connected to him and his story now. I loved learning about his strange past and can't wait to delve even deeper into him and his family in the next books. Gansey is still my book boyfriend - yes he has flaws and yes he can be pretentious and arrogant but I just love this mysterious passionate boy so much for reasons I just can't explain. Blue is just the perfect female protagonist in my opinion. Headstrong and determined, caring and empathetic, loyal to both others and herself. And as always, I had so much fun returning to the magical cosy weirdness of 300 Fox Way and its many psychic residents. Noah didn't play much of a significant role in this book, but one particular scene with Blue literally almost broke my heart and filled me with such a strange mix of joy and sadness. I can't wait to see where his story goes in the next book. As for Adam, I think many readers found him to be be frustrating in The Dream Thieves in terms of some of his actions which I understand, but to be honest I will never not fall in love with a tormented soul who has so much going on in his mind that no seventeen year old should have to deal with. Maggie's poetic prose won me over in this book even more than the first. It has such an ethereal, mystical feel to it that wraps you up like a warm blanket and I CANNOT wait to get absorbed in the rest of the series.
THE WEIGHT OF THE STARS by K. Ancrum
Rating: ★★
★
★
The Weight of the Stars is a quiet and beautifully affecting story full of friendship and starlight and courage and resilience and heartbreak and what we give away to lift each other up. There's something about these characters that burns with nostalgia and youth. A group of unconventional reckless teens, rough around the edges but each with enormous hearts as well as a weight pressing down on their souls, but with the courage to throw themselves at their struggles rather than accepting the road they had been thrust on and becoming the mistakes of those before them. There's a poignant feeling of grasping for the unknown, struggling through trauma and finding family among friends along the way and for me it was such a moving experience to journey through all of the emotions dripping off these pages. The relationships in this book were also so beautiful. The way Ryann and Alex found each other and helped each other learn how to let go, how to heal, utterly warmed my heart and the lush, moody atmosphere that pervades the story makes their slow-burn romance all the more spine-tingling. The sibling love between Ryann and James was also so incredibly touching and had me on the verge of tears more than once. If there's one thing that this book has taught me, it's that love can always blossom from ugliness, and how it's so important to have friends around you who can wake you to the understanding of your own strength. I loved this book so much and cannot wait to read more from K. Ancrum in the future. (Also want to mention that it added at least five years in my life to see the cameos of Jack, August and Rina now in a polyamorous relationships with a child of their own growing up in a household of pride and love, a stranger to the loneliness that shrouded their own teenage years. Magical.)